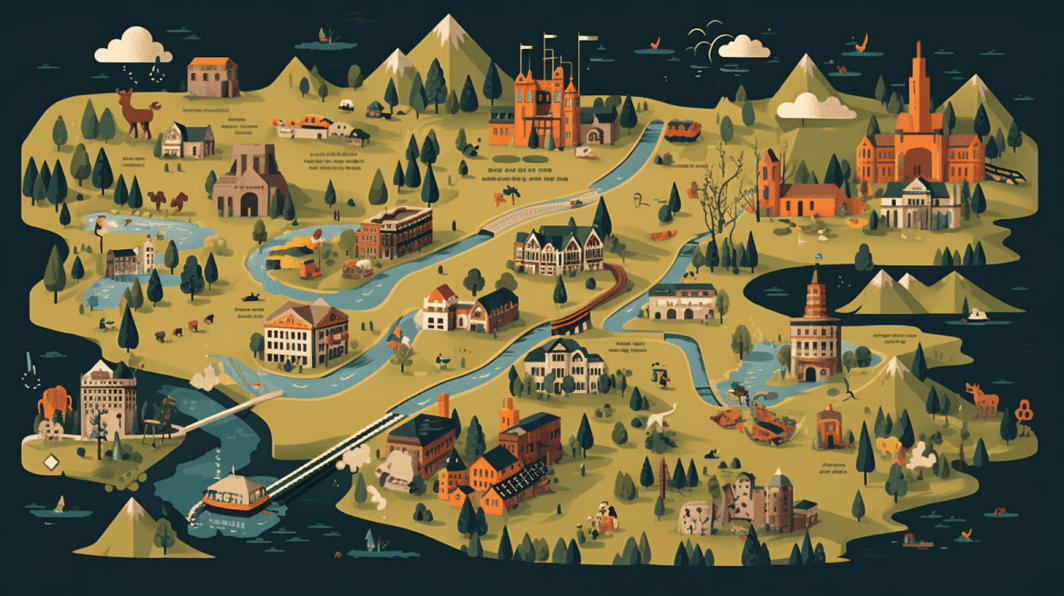 The Best English-Speaking Cities for Software Engineers in Germany in 2023
The Best English Speaking Cities for Software Engi
Germany is Europe's largest economy, and software engineers working there can call themselves lucky: The country is also home to some of Europe's largest tech companies, such as SAP or Siemens, all while housing the second-largest number of tech-related startups in Europe. The Western European behemoth is a garden full of low-hanging tech fruits.
Germany is also an open destination to foreign workers, with a high rate of visa approvals for the tech sector. However, the language barrier (die, das, or der language barrier?) might prevent you from turning the ready-to-grab Äpfel into the golden apples that tech workers savour in Germany. Fortunately, English is widespread in Germany, meaning some of its cities are top European destinations for the tech crowd.
Top English-speaking cities for software engineers: the criteria
With so many options to settle down in Germany, we will help you find the English-speaking German cities with the most opportunities, basing our ranking on the percentage of English speakers and the number of tech jobs in English that each has to offer.
That's right — we created a shortlist by combining two standards:
The German cities with the most English speakers, by percentage.
The German cities with the most tech jobs in English.
Statistics vary, so we used the most reliable facts only to pick the very best cities for software engineers, even if data can't be compared one next to the other. It'd be effortless to browse through the percentage of English speakers per city in the country. Still, no such official information exists, so we calculate the competency by other means, such as the EF English Proficiency Index.
On the other hand, some other subfactors that influence our picks can't be accounted for. For example, no reliable source explains how many people in Munich prefer you to speak in German even if they (secretly) speak English more proficiently than a 30-year-old Britpop record collector raised in Manchester. That peculiarity might make it less fit for a non-fluent German speaker than its freewheeling counterpart, Berlin.
| City | Proficiency Score according to EF |
| --- | --- |
| Berlin | 656 |
| Düsseldorf | 655 |
| Munich | 648 |
| Hamburg | 630 |
| Frankfurt | 591 |
Note: the info is sourced from different EF surveys for different years; surprisingly, a particular year can have Berlin stay on the bottom, so these scores change yearly.
Still, by combing through reliable facts and combining the two factors outlined before, we can uncover which cities are the most welcoming — with Berlin predictably taking the first spot.

---
Berlin—the tech hotspot
Berlin, a notable economic hub, is a leading destination for the startup scene in both Germany and Europe. Germany's capital city is home to about one in every five German startups, meaning this city hosts nearly three times as many startups as the national city average. The ecosystem benefits from Berlin's diversity and the numerous universities, as well as a creative, club-oriented culture where working long hours can be balanced with an even-longer rave.
Cities for fintech VC investment, by total investments
| City | 2018 | 2019 | 2020 | H1 2021 |
| --- | --- | --- | --- | --- |
| Berlin | $0.7bn | $1.3bn | $0.5bn | $1.9bn |
| Paris | $0.4bn | $0.6bn | $0.6bn | $1.3bn |
Source: Dealroom
Berlin is, quite possibly, the top German city for English-speaking software engineers. While surveys suggest that at least half of the German population speaks English, different anecdotal pieces of evidence suggest that, in Berlin, the proportion is way higher. In certain years, the far-famed EF English Proficiency Index has placed Berlin not only as a German leader and one of the most proficient cities (among non-native countries, of course).
The number of jobs in English is a good sign of the city's romance with globalised culture. In early 2022, the Federal Employment Office reported that employers had opened up around 15,000 new jobs in Berlin in the last quarter. Meanwhile, a brief look at the number of English-speaking jobs in Berlin shows that there are almost 8,000 open positions at the time of publishing. Moreover, a 2021 study by Die Welt revealed 14% of job ads in Berlin are in English — more than any other city in the country. This suggests that the Berlin job market is well-integrated into the English language.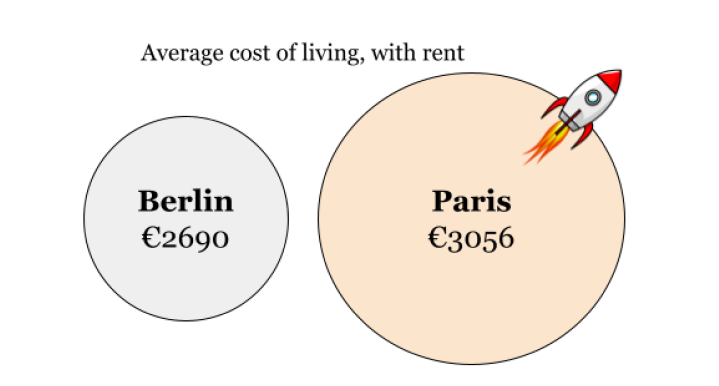 Regarding the cost of living, Berlin is still one of the most expensive cities in Western Europe — but it's relatively affordable compared to other major European urban centres. While prices have been rising recently, especially in the Kreuzberg neighbourhood, the overall cost of living remains reasonable if you benchmark it against other capitals. Software developers earn an average salary of €60,000 annually, which is substantial considering the low (compared to, say, Paris, at least) cost of living, coming to around €2,690 per month. Because of this, even English-speaking software developers can enjoy a comfortable lifestyle with competitive salaries, reasonable rents, affordable amenities, and long-winded clubbing weekends.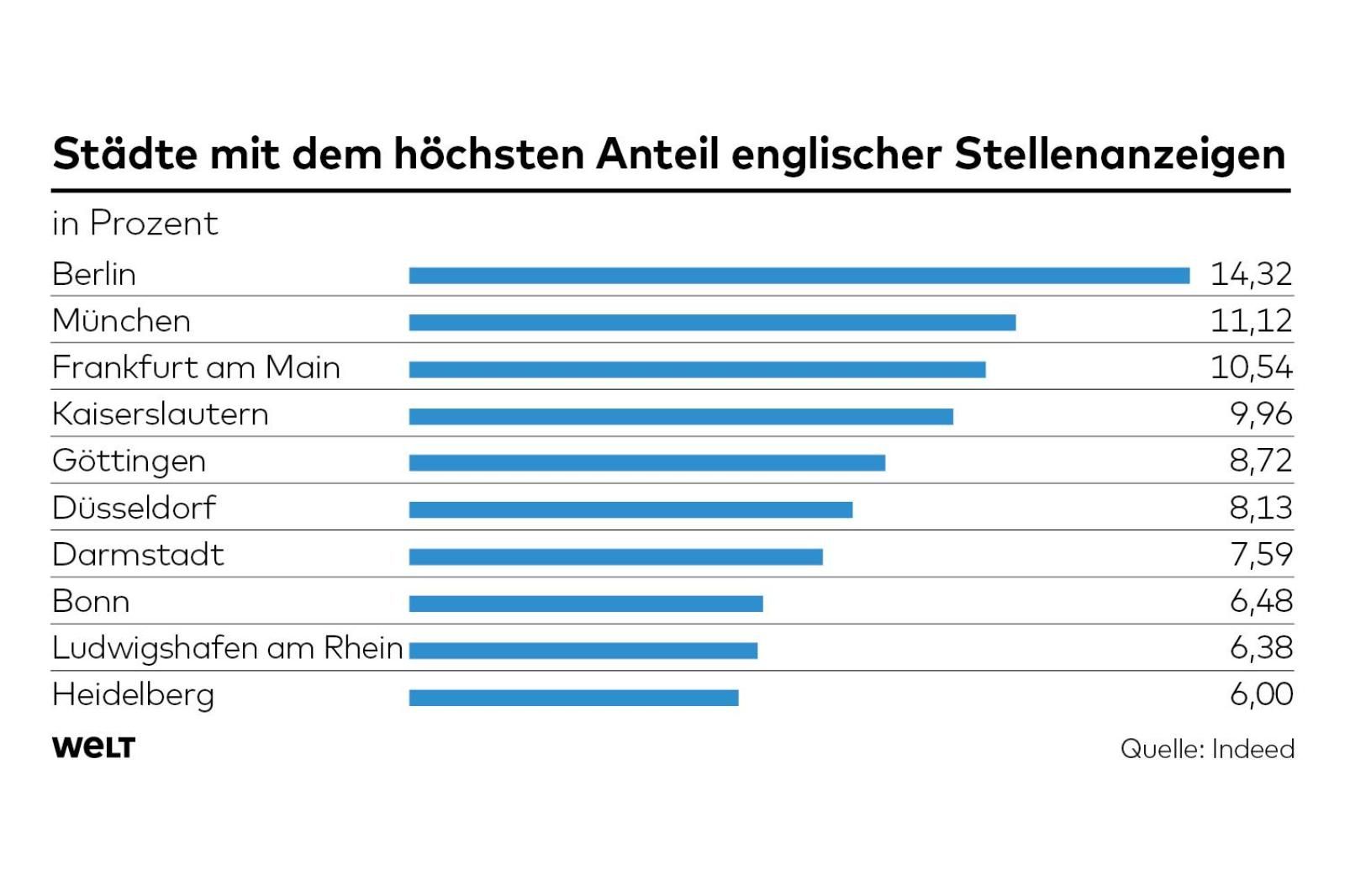 Hamburg—calm and progressive
Hamburg, a traditionally broad-minded metropolis, if there's such a thing, is the second-largest German city, and has the country's highest average GDP. It offers well-paid positions, and the salaries offered here are higher than the country's average. The city has a thriving tech scene with diverse companies, including startups, established tech firms, and innovation centres.
This provides software engineers with a variety of options when it comes to finding exciting and fulfilling career opportunities. If measured with the curious standard of "per 10,000 inhabitants," Hamburg has the most significant number of startups in Germany, even ahead of Berlin and Munich. According to the European Commission, there were more vacancies than qualified professionals in the tech industry in this city in 2022. Developers' salaries range from €55,000, and there are multiple choices of companies to work for, being the home to the German headquarters of several international companies such as Google, Facebook, and Twitter. It's also a solid city for video game enthusiasts.
Hamburg is one of the most foreign-friendly cities in the country, as English is widely spoken and understood, to the extent of cementing itself as the springboard city for quite popular English-communicating acts. Surveys demonstrate that English proficiency in the Hanseatic town is exceptionally high. In 2020, the EF index ranked it the eighth most proficient city among non-native English-speaking cities. Many companies have an international focus and use English as their primary language for communication.
Hamburg is known for its exceptional quality of life. The city offers a perfect blend of urban amenities and natural beauty. With its picturesque harbour, plenty of parks, and a lively, rockabilly-infused cultural scene, there is always something to explore and enjoy. It is an excellent destination for people who feel overwhelmed by city life. Living and housing costs will be affordable for a Software Engineer, as the estimated monthly costs of living in Hamburg are €966.2 (without rent), and there is no housing crisis like in other big cities, with a more comprehensive range of flats and prices to choose from.
Munich—cosmopolitan safety
This city is shining in the spotlight of the tech industry, growing by the minute. Many American companies have been setting up offices in the region, which resulted in the boosting of employment rates. Munich is home to various tech companies (ranging from tech giants to promising startups, which encourage the tech job market). The city combines a rich cultural heritage with modern amenities, and, even if it lacks a recognisable skyline like Berlin's, is known for having a superb quality of life. It is the place where you'll be able to find all the typical German stereotypes while speaking in English simultaneously. Munich is, all in all, a large city with cosy-town vibes.
This city is ideal if you're looking for an English-speaking job. Considering that 70% of the population speaks this language, you could theoretically live peacefully in Munich without mastering German. Moreover, Die Welt once reported that 11% of all online job ads in Munich are in English. But anecdotal reports suggest that locals expect you to draw out your Bavarian accent to land a gig. Don't be surprised if you're met with sceptic sneers when you say, "We are who we are" rather than chanting "Mia san mia." If things don't work out and your Bavarian is still in shambles, you can still hop on the ICE superfast train to Berlin.
Munich's cost of living is higher than the national average, with an estimated monthly cost of living of €1,019 (without rent). Salaries for software engineers are competitive, and the city provides a high standard of living in return. It also offers slightly higher wages than other cities, taking the top spot at €63,000.
| English | German | Bavarian |
| --- | --- | --- |
| Hello/Good Day | Guten Morgen | Guadn Moagn |
| Goodbye | Auf Wiedersehen/Tschüß | Pfia God |
| Using Sie (formal): | Wie heißen Sie? | Wie hoassan'S? |
| Using du (informal): | Wie heißt du? | Wie hoast'an? |
| Good morning | Guten Morgen | Guadn Moagn |
| Good evening | Guten Abend | Guade Nocht |
| Good night | Gute Nacht | Wie hoast'an? |
| What are you called? | Wie heißen Sie? (formal) | Wie hoassan'S? |
| I'm called... | Ich heiße... | I hoas.../Mei Nom is... |
| How old are you? | Wie alt sind Sie? (formal) | Wie oid sans'an? |
| I am... years old | Ich bin... Jahre alt | Wie oid bist'an? |
| Where do you live? | Wo wohnen Sie? (formal) | Wo wohnan'San? |
| I live in... | Ich wohne in... | I wohn in... |
| And you? | Und Sie? (formal) | Und Eahna? |
| How are you? | Wie geht es Ihnen? (formal) | Wie gehd's Eahna? |
| I'm fine! | Mir geht es gut! | Mia gehd's guad! |
Frankfurt—the financial centre by the waterfront
Frankfurt is known as one of the world's most important financial centres, and home to the European Central Bank and numerous other major financial institutions. Lately, there has been a growing shift towards digitalization in the financial industry, with many institutions investing in new technologies and creating more tech-related job opportunities.
From anecdotal information and general trends, it is reasonable to assume that the number of tech-related job opportunities in Frankfurt is increasing due, in part, to the digitalization of the financial industry and the growth of the city's startup ecosystem. The apparent outcome is the onset of fintech companies, such as Billie, a Frankfurt-founded, quite-publicised "buy now, pay later" solution — which is right now based in Berlin, naturally.
Additionally, Frankfurt's central location within Europe allows for convenient travel and exploration of nearby cities and countries. So if you can't find yourself in Frankfurt and realise you'd rather find a new job far from the Main River, sneaking off should be fantastically easy. If you change your mind and stay, Frankfurt offers a great range of housing options, and the estimated monthly cost of living in Frankfurt is €988.5 (without rent). Although expensive, it is accessible for a software engineer as the salaries are approximately €55,000.
Many international companies have their headquarters or regional offices there, and English is commonly used as the primary language for communication. Nonetheless, learning German does help in the business world in this city. It still ranked below the .600 mark in the EF English Proficiency surveys, which means it's a notch below other German global centres.
Düsseldorf—the English-speaking fashion kingdom
No, we promise: Düsseldorf is not in Scandinavia. The umlauts (Häagen-Dazs's founders know a bit about this) and it's extremely high English proficiency could fool a stowaway visitor into believing the random flight they hopped on landed in Sweden or Denmark. But Düsseldorf is just another town in the populous North Rhine-Westphalia cluster, closer to Brussels than to Malmö.
This city is a significant economic hub in the country, with well-established businesses that are engaged in the fashion, tech, and healthcare industry. Düsseldorf is an energetic digital centre with a prosperous future and opens arms to tech job-seekers progressively and offers salaries ranging from €55,000 for software engineers.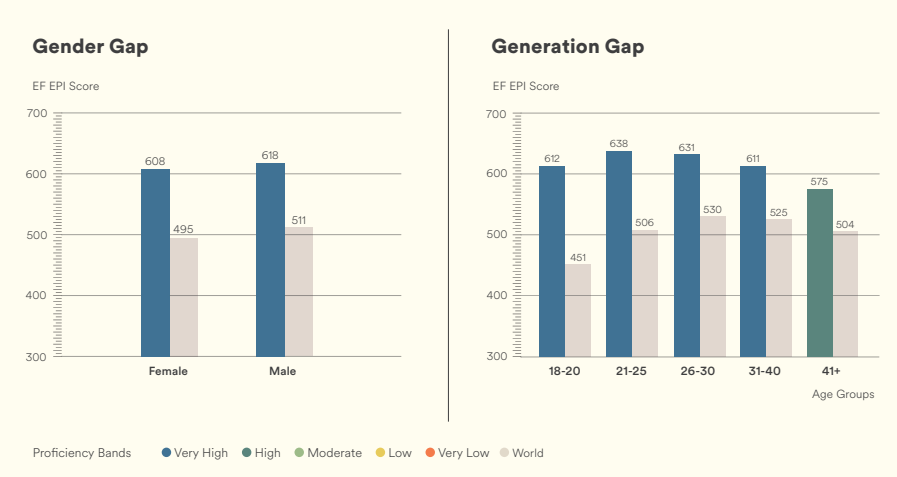 Düsseldorf also has a robust international community, at times even ranking above Berlin as the best English-speaking German city. The average monthly costs without rent round up to €940, which is much less compared to other German cities that we've been discussing.
With its picturesque riverside promenade, vibrant cultural scene, and renowned fashion and design industries, Düsseldorf provides a diverse and enriching environment to live and work and to learn to spell out umlauts — Mötley Crüe and Hüsker Dü style — with a QWERTY keyboard.
In conclusion, these are the standings
German cities are perfect for tech enthusiasts, offering great ranges of tech and innovation-driven businesses, these places really do live and breathe digitally. If we rank them by English proficiency and the number of tech jobs in English combined, the standings are entirely predictable. The top English-speaking cities for software engineers in 2023 are:
Berlin 🏆
Munich
Hamburg
Frankfurt
Düsseldorf

Please note that the ranking is a mere formality. Having a wealth of possibilities for growth and development, each and any of these cities has its pros. And even though we settled for five picks, the German nation has plenty of other options for job seekers. Our overview confirms that Germany is an excellent country for expats or German speakers who want to hone their English game.
If you're convinced about a city but not so much about which company to apply for, check company reviews for information regarding workplace culture and their tolerance of international collaborators. You can also browse through English-speaking jobs in Germany.
But with so many upsides, choosing the right fit might be difficult… Are you a cosmopolitan, urban city lover who thrives off an upbeat way of life? Whatever place you end up choosing, you will indeed find fantastic opportunities for bilingual professionals to profit from those low-hanging fruits.
Join the newsletter to receive the latest updates in your inbox.