Your code in cars of the new generation - be part of the new technological revolution
Your code in cars of the new generation be part
Reliable self-driving cars are no longer such a distant future. Moreover, the automotive industry is progressing so quickly that there are already cars with certain features of autonomous driving, which are already available on the market, such as the Audi A8 2018 - the world's first production car with autonomy level 3, on which zFAS (Zentrales Fahrerassistenzsystem - Central Controller Driver Assistance, 'all functions, one unit') was developed by RT-RK Automotive.
Not only is autonomous driving no longer a distant future, but we can be a part of that future. The company RT-RK Automotive, as part of the TTTech Auto Group, is working on the development of a software platform called MotionWise™.
MotionWise™ is a software platform for autonomous driving systems and ADAS. It is based on the AUTOSAR architecture, but with significant improvements that extend functionality, increase security and facilitate integration.
But what does it actually look like to work on these projects and be part of the new technological revolution?
How to enter the automotive industry?
To start working in the automotive industry, although it is quite specific, you need practical experience in the development of embedded systems and software. You will learn everything else in the onboarding courses that await all beginners.
For example, as a beginner, Ivana dealt with Health topics such as WDG, Task Monitoring, Host Supervision and Error Handler. Within the Error Handler, her first tasks involved adding external reactions. The whole project was based on the MotionWise™ platform - which, like all beginners, was completely new to her. Fortunately, the work system was organized in such a way that all the necessary materials for understanding were there, as well as the constant help of senior colleagues who are happy to help beginners master new technologies.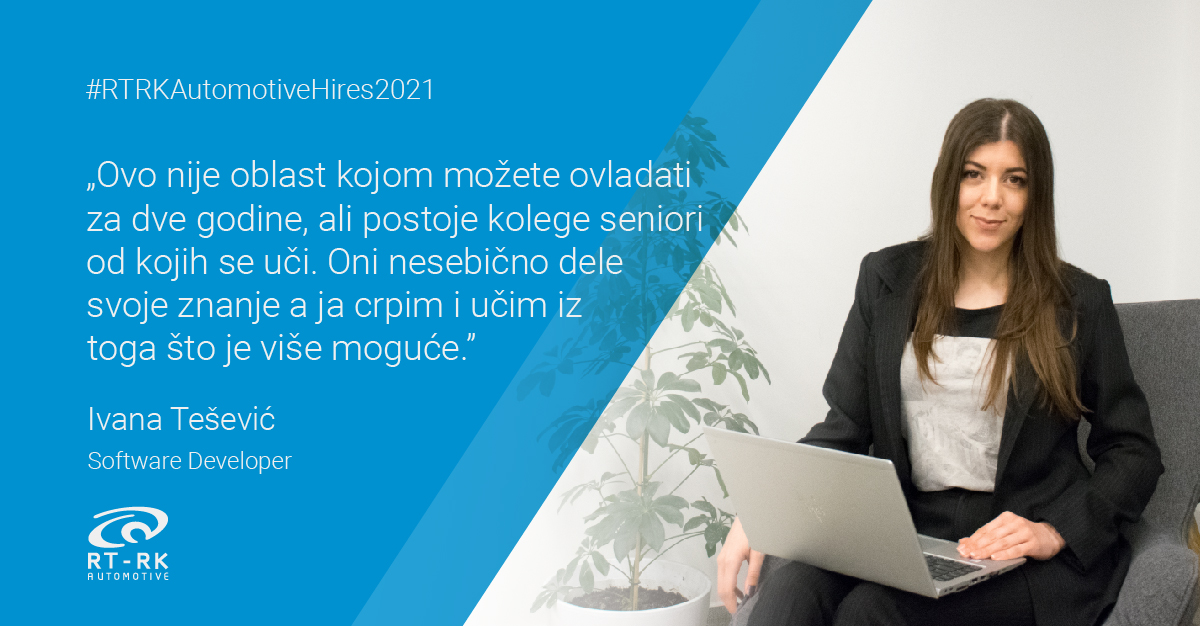 As the automotive industry is developing at a fast pace, so are the talents in the automotive industry. Already after half a year in the Health team, Ivana got the opportunity to overcome new challenges within the ECU-SM (State Management) topic, where she was able to familiarize herself with topics such as Scheduler SH, Scheduler PH, Task Monitoring and WDG. She worked on the development of the Degraded Mode feature, which is triggered when the system has problems booting up after a reset.
Within this project, it was necessary to incorporate all ideas and realize them within the MotionWise™ platform. There was a lot that she had to learn, overcome, hear from older colleagues, and ultimately - make mistakes.
Every beginning is difficult and even though the culture of these spaces has somewhere instilled that making mistakes is a bad thing, we believe that the developers will not agree with that. Without trial and error, we will hardly find the right, simplest solution. We will slightly modify the famous quote by Thomas Mann and say: "With a great Senior, often come great mistakes."
After only two years, many interesting projects, and a few mistakes, Ivana advanced from Junior Developer to Professional Seniority, which shows that although the automotive industry is challenging, with effort and a good mindset, anyone can progress quickly and develop their career.
What challenges do we face in the automotive industry?
Being a programmer in the automotive industry is much more than just writing code. To support automakers in the development of their solutions, a software development platform for autonomous driving must have these qualities: reliability, safety, sustainability, availability and security. Therefore, most of the challenges are related to the provision of these characteristics.
What are the challenges?
1. Teams must have a wide range of knowledge
For example, one of the tasks of the Platform Communication Team is to solve all technical challenges in order to effectively communicate within the ECU (Engine Control Unit), i.e. ensuring reliable communication with extremely large amounts of data.
This requires an exceptional multidisciplinarity of the team - they must have a wide range of knowledge, from microcontrollers, to Linux and QNX operating systems. Which is a challenge in itself.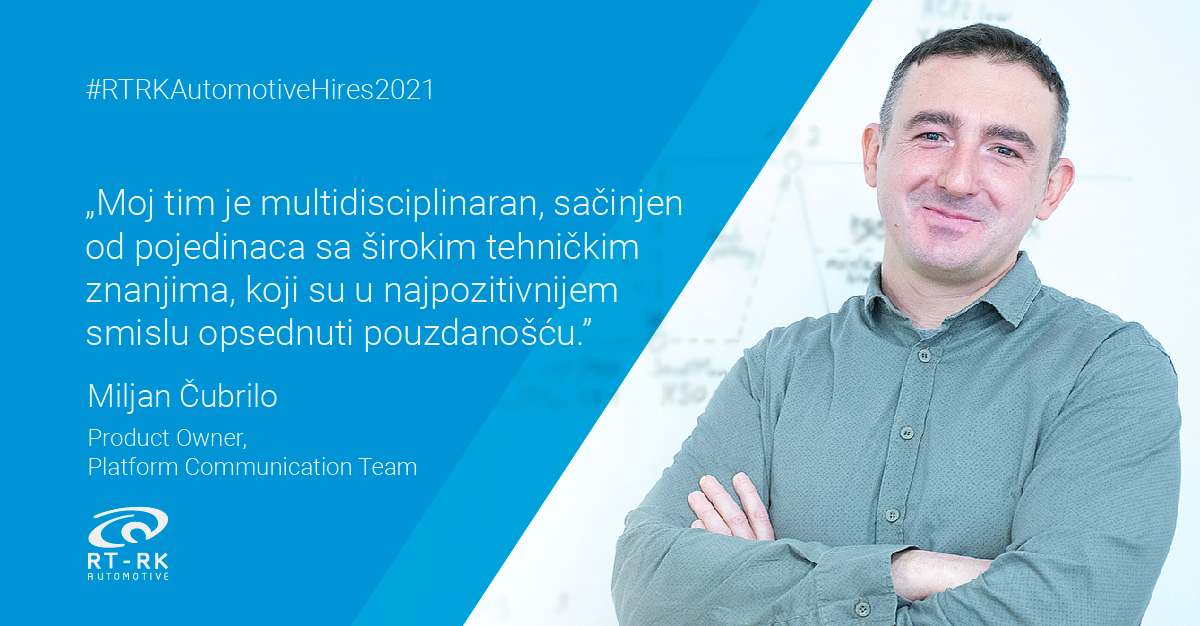 2. Reading and understanding of safety standards
If you have had contact with engineers and developers, you will not be surprised that they are not very enthusiastic when they have to deal with interpreting complex and extensive readings like security standards. Well, they do programming for exactly that reason - to simplify complex things with code.
Namely, that's why this field may not suit everyone at first, because many perceive it as "studying law". In order to ensure the necessary safety and reliability of vehicles for autonomous driving, everything must be in accordance with ASIL D (Auto Industry Safety Integrity Level), the highest level of safety ISO 26262 - functional safety standard for road vehicles.
3. Training and empowerment of new staff
Since the automotive industry is a fairly young industry in this part of the world, and only some programs at faculties deal with this narrow niche, it is difficult to find ready, adequate personnel who can immediately join active projects.
Although this is a challenging situation - on the other hand, it is also tempting. Why?
Precisely because the automotive industry in Serbia is young and rapidly developing, the opportunities for career growth and development are exceptional. As working conditions and salaries in IT companies are generally good compared to other industries in Serbia, programmers are increasingly turning to projects that will be challenging for them and that will provide them with professional development and motivation to develop new skills.
"We need talents, but not only that. In this, they must have a personal motive and driving force to learn independently and overcome the obstacles in front of them." - Miljan Čubrilo, Product Owner, Platform Communication Team
Why step into the automotive industry?
The automotive industry is an industry that provides opportunities for growth and development in various fields and skills. It is currently one of the most attractive industries that attracts the most creative problem solvers from the dev world. To miss such an opportunity would be to miss the opportunity to develop the future of autonomous driving.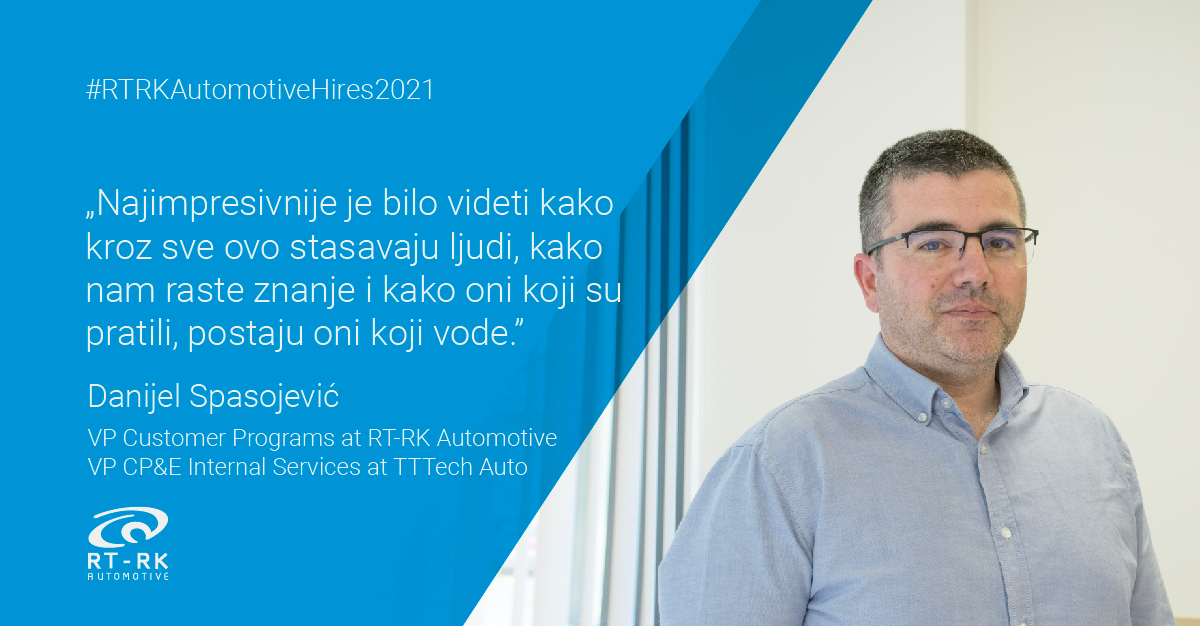 Working in the automotive industry, you will have the opportunity to work on the development of complex solutions for autonomous driving and see your solutions in the giants of the auto industry such as Audi, Porsche, BMW, Hyundai and KIA.
If you love cars, are hardworking and don't give up easily, you are welcome to join. Apply for 200 new positions in an industry facing a new technological revolution.
Join the newsletter to receive the latest updates in your inbox.