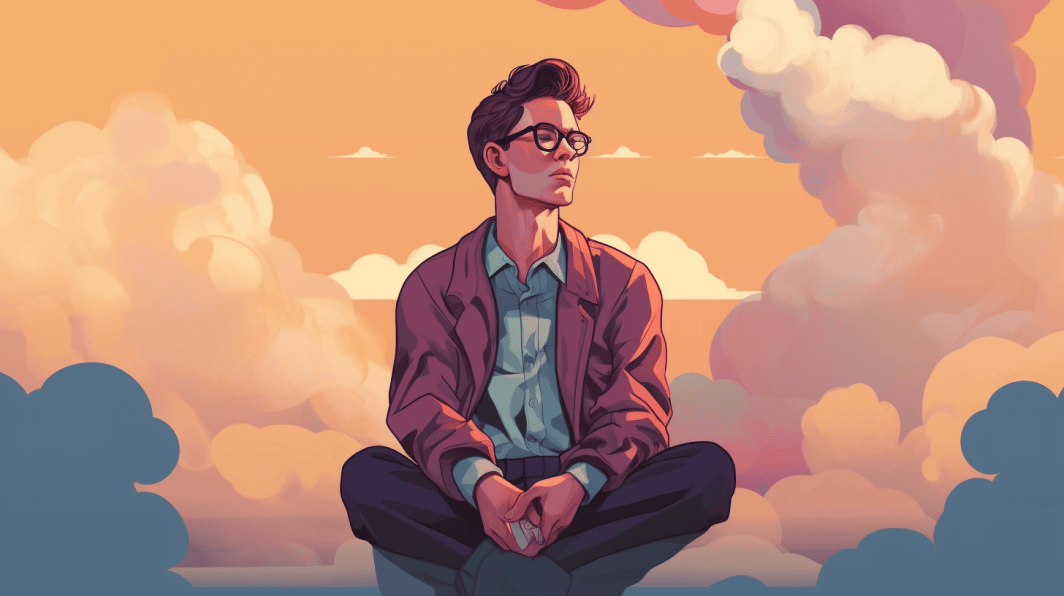 How to Write a Useful Company Review in 2023
How to Write a Useful Company Review in 2023 In to
In today's interconnected world, online company reviews — typically anonymous — have become a crucial part of the decision-making process for job seekers, accounting for 70% of career decisions. As a tech employee, writing a helpful and informative company review can benefit both the reader and the business. According to Glassdoor, 76% of respondents agree that their perception of a company improves after seeing an employer respond to a review, and 4 in 5 (79%) are more likely to apply to an open job if the employer is active on Glassdoor by responding to reviews, updating their profile, and sharing updates on the company culture and work environment.
Reviews are often left by former employees, who anonymously either praise or demolish the company. Some victims of the continuing layoffs might be furious and, protected by anonymity, will be prone to leaving a negative appreciation. But there's an opposite scheme flooding review sites: some employees, writing a review on request of the HR department, might be inclined to talk marvels about a company they've just started working at.
We propose, instead, that you strike a balance and not settle for any of the two extremes. Reviews should be penned out to help colleagues. It's essential to remember these considerations to ensure your review covers the crucial aspects of the company and your working experience. We encourage you to share your experience by contributing to a review that can help others make informed decisions about their career choices.
Understanding the importance of company reviews and their impact on decision-making
The internet has given us a powerful tool to share our experiences and opinions about different companies and their culture. Company reviews can be essential for anyone looking to learn more about a potential employer. Did you know that 86% of employees and job seekers research company reviews and ratings to decide where to apply for a job? If you work for a company with a negative online reputation, it may struggle to attract top talent and compete with other businesses.
As an employee, sharing your honest thoughts and experiences about your workplace in a company review is essential. These reviews can provide valuable insights into what it's like to work at a particular company, including information about the company culture, management style, and other factors that can impact your job satisfaction.
Suppose you work for a company with a strong, positive culture and management. In that case, sharing your experience in a review will help the company attract new talent and customers and increase its revenue. By being honest and transparent, you can help to create a more informed and empowered workforce and contribute to a thriving business environment.
Leaving a review of your company can have both pros and cons. On the one hand, a positive review can help foster a supportive work culture that benefits all employees. On the other hand, a negative review can harm the company's reputation and discourage potential employees from applying. It can also lead to tension and conflict with management or colleagues, negatively impacting your work environment.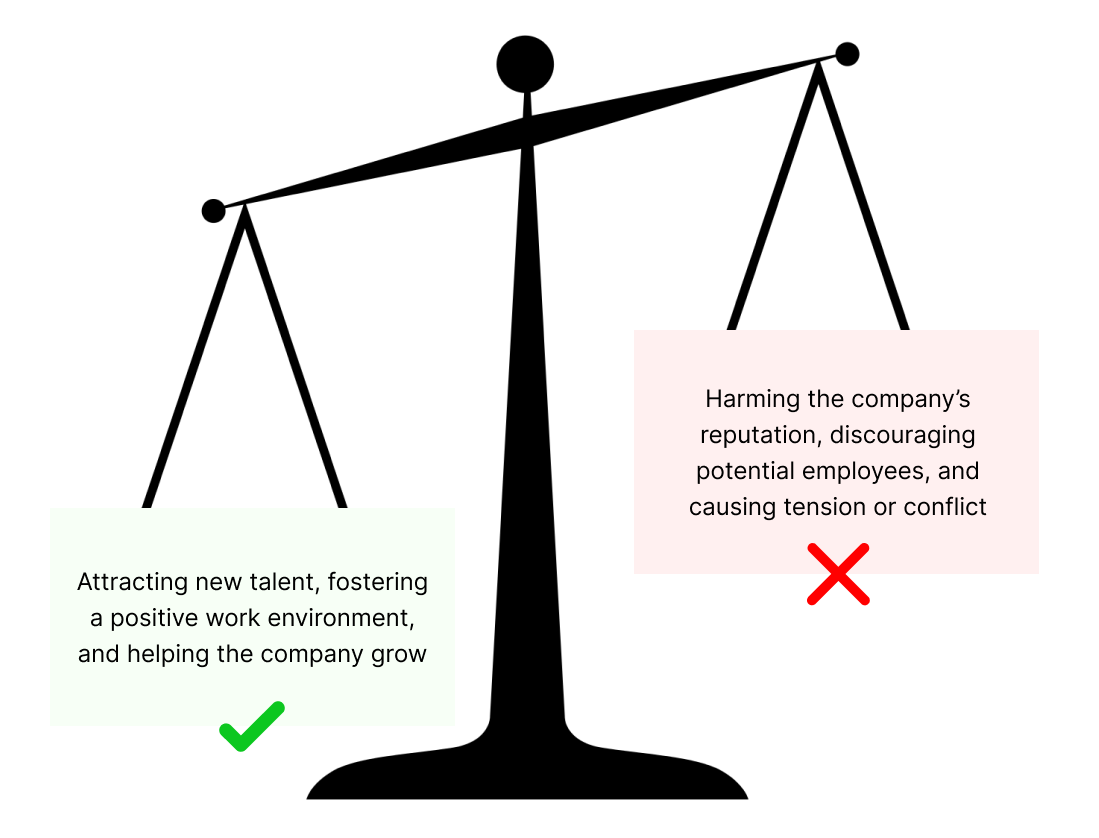 When deciding whether to leave a review, employees (or former employees) should consider their career goals and whether they plan to stay with the company long-term. If they are looking to build a lasting relationship with the company, leaving a constructive review highlighting improvement areas could lead to positive changes and a better work environment. However, suppose they are considering leaving the company shortly. In that case, leaving a negative review that could harm their professional reputation may not be in their best interest. Whatever the decision, be thoughtful when leaving a review and consider the potential impact on all parties involved.
Quick Facts:

86% of employees and jobseekers research company reviews
76% of respondents agree that their perception of a company improves after seeing an employer respond to a review
How to write a useful review: the key elements
Writing a company review can be a helpful way to share your experiences with others and provide valuable feedback to the company. However, not all reviews are created equal. A helpful company review should be informative, balanced, and provide readers with a clear understanding of the company and its offerings. Here are some key elements to remember when writing your next company review:
Being specific and relevant
A helpful company review should be specific to the company and avoid vague statements. Instead of saying, "The company is great," provide specific examples of what makes it great. Use concrete details and examples to showcase what you're trying to convey. Here are some examples:
"The company's commitment to diversity and inclusion is one of the things that makes it stand out. I appreciate how the leadership team actively seeks out diverse candidates and creates an inclusive work culture where everyone feels welcome."
"One thing that sets the company apart is its strong focus on sustainability. From recycling programs to energy-efficient buildings, the company is committed to minimising its environmental impact and has created a culture where sustainability is a top priority."
Being balanced and fair
Provide a balance of positive and negative feedback. Highlighting only one side of the company's operations or culture can seem biased and superficial. Providing a balanced review showcases that you have evaluated the company fairly.
"While there are areas where the company excels, I see room for improvement in communication and transparency. Some team members don't feel fully informed about important company decisions, leading to confusion and frustration."
"I've enjoyed my time at the company, but some organisational inefficiencies have made it challenging to work efficiently. For example, several key processes could benefit from streamlining and more clearly defined roles and responsibilities."
Getting to the point and spell-checking
When writing a company review, it is crucial to be concise and clear in your communication. The purpose is to provide information that others can easily understand and interpret. Avoid using excessive jargon or complex language that may hinder comprehension.
In addition to being lucid, supporting your opinions and feedback with specific and relevant examples is essential. This helps to add depth and credibility to your review. By sharing concrete instances or experiences, you provide valuable context and evidence to support your claims. For example, instead of saying, "The company has poor communication," give an example like, "The lack of regular team meetings and email updates often resulted in bewilderment among team members, leading to delayed project timelines."
Spell checkers are a very straightforward way to make your review neat and precise. Some English spell checkers out there, especially those founded by internationals, rely on AI to provide the best suggestions based on your native language. So you can set the language you speak at home, and the spell checker will help you land a native-sounding review in the spelling you pick. So, if you speak German and you only use the word "machen" for do and make, lean on these AI-boosted spell checkers to avoid penning reviews about how you "made research" (it's doing research!) or how the company's office was "in the near from Berlin" instead of near Berlin — "in der Nähe von" might get in your way.
By incorporating specific examples, you offer readers a clearer understanding of your perspective and demonstrate that your observations are based on real experiences. This strengthens the overall impact of your review and enhances its usefulness to others. Remember, being concise and clear doesn't mean sacrificing essential details or insights. It's about presenting your thoughts in a well-organised and concise style while providing enough information for others to grasp the key points of your review.
Keeping it professional and not so personal
Maintain a professional tone throughout the review and avoid making personal attacks or statements that could be considered unprofessional. Keep the tone of your review professional and avoid overly emotional language. Be respectful in your style, even if you highlight negative aspects of the company. Failure to be respectful when writing a review could potentially impact your future professionally and limit your opportunities.
Prospective employers or business partners who come across your review may hesitate to work with you if they perceive you as disrespectful or unprofessional. Additionally, if your current employer or colleagues were to come across the review, it could sour your relationships with them and damage your reputation within the company. It's always best to approach writing a company review with a professional tone and to focus on providing constructive feedback that can help the company improve, rather than unprofessionally expressing emotional grievances or complaints.
Rather than "This company is terrible," try saying, "There are some organisational inefficiencies or areas for improvement that I've observed during my time here, such as the vending machine's clunky keyboard through which you scored a sparkling water when you craved for a ginger ale." You can leave the second half out.
If you feel "frustrated and disappointed with the lack of progress," you could write, "I think there may be some ways to improve the pace of progress for certain projects."
Include suggestions for improvement
End your review with constructive suggestions for how the company can improve. To start, use a problem-solution format to highlight a particular challenge the company faces and then offer a specific solution. For example, instead of simply mentioning that communication could be improved, suggest implementing a new project management tool to streamline team communication and collaboration.
It's also essential to provide context and explain why your suggestion would benefit the company. Prioritising your recommendations based on urgency, impact, and feasibility can help the company focus on the most influential areas for improvement first. Finally, focus on positive change and frame your suggestions to demonstrate your investment in the company's success.
Take care of yourself
When leaving a company review, the goal should always be prioritising what is best for you. This means being mindful of how your feedback or criticism may impact your current or future employment opportunities. Even if reviews are 100% anonymous, certain details could blow your cover, especially if we're talking about small companies where everybody knows each other.
Moreover, since some companies might request you to write a review in the first days at your job, you should be predominantly factual — tell incontestable truths about the job and don't go for details or even mildly ironed-out appreciation. For example, you can tell that it's a global company that encourages diverse backgrounds and that workers from your team are from three different countries — facts, facts, facts. So, to protect yourself, state what's obvious and has been happening for a while, and use your wit to frame it differently. You'll have time to create more detailed appreciations (and churn out a proper review) down the line.
Furthermore, it's simply indispensable to present yourself attractively to potential employers. This means critical thinking and providing thoughtful, constructive, and actionable feedback. Considering these considerations, you can position yourself in the best possible light while helping the company grow and improve.
For employees who are planning to stay at the company that they are reviewing, it can be helpful to offer actionable feedback that they can implement to help improve the company. Additionally, employees staying at the company may need to consider the potential consequences of their review and how it may affect their relationship with management. Employees leaving the company may feel more comfortable being honest and direct in their reviews. However, it's essential to consider that the reference letter from the company may be withheld if a negative review is given.
In conclusion…
We strongly encourage readers to contribute to the community by writing helpful company reviews based on the guidelines provided in this article. Sharing your experience working at a company can offer valuable insights to others and assist them in making informed decisions.
However, it's vital to guard your interests when writing a review, especially if you've been told to pen it by your new employer. Consider the potential consequences and possibilities, professionally and personally, and approach the review rationally. By sharing your experiences thoughtfully and constructively, you can help create a more transparent and empowered business environment for everyone involved.
Join the newsletter to receive the latest updates in your inbox.