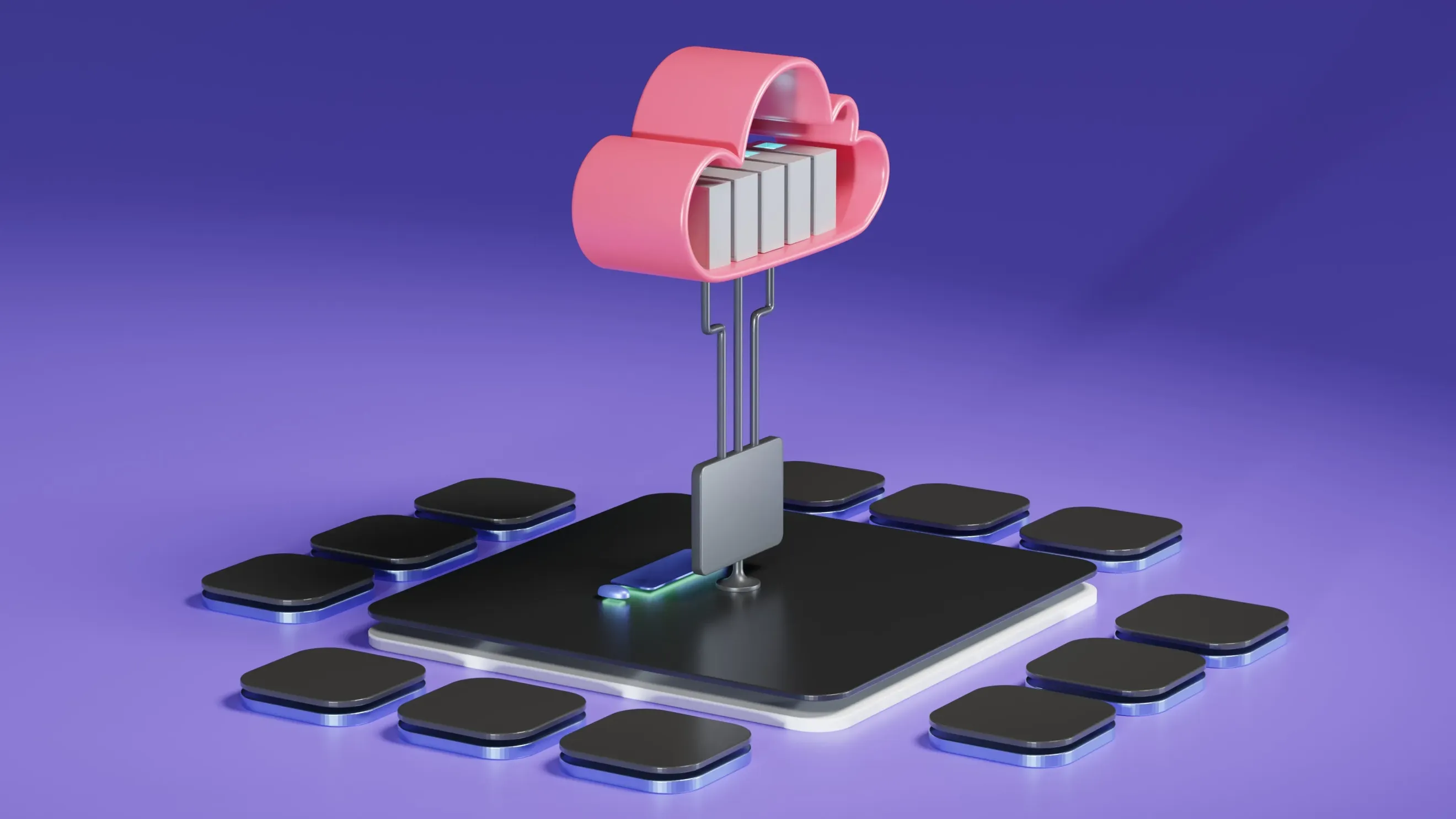 Cloudification and Future of the Data Processing
Cloudification and Future of the Data Processing C
Cloud computing has become one of the most significant tech achievements of our time. With the exponential growth of data and the need for instant access, the cloud plays a key factor for both companies and end users.
Here we discuss the importance, advantages, and challenges of cloud computing. The main focus is on the cloudification process as a way of transforming the businesses of organizations and providing more innovative services to users. All this through the examples and expertise of one of the leading telecommunications companies in the region.
In addition, you are going to find out ways to participate in the development and implementation of such solutions.
What is Cloud and How Does It Work?

The cloud is a place for storage and access of digital data and application programs via the Internet, an alternative to the same process on your computer.
Cloud provides a user with hardware, software, and a user platform, thus becoming the tech and business model that enables the so-called "access on demand". It means that the user selects and quickly activates computer resources or applications that become available via the Internet.
Cloud computing relies on resource sharing to achieve coherence and typically uses a pay-as-you-go model. It helps reduce capital costs but also leads to unforeseen operational costs for users of such models.
The Cloud Is Characterised by:
On-demand self-service
Broad network access
Resource pooling
Fast and efficient scalability
Measurability of all services
It is realized through three models:
Cloud Software as a Service (SaaS)
Cloud Platform as a Service (PaaS)
Cloud infrastructure as a service (IaaS)
Who uses the cloud?
The cloud is now a standard due to the ease of accessibility of computing resources and is an integral part of the increasing development of IoT devices, smart devices and machines, and robots that use the cloud for their work.
Hundreds of millions of users around the world use services that are based on the cloud- Facebook, Gmail, and Twitter are some of the most famous. IT giants - Google, Microsoft, and Amazon offer complete solutions for business in the cloud as well as services for individual users of computers, tablets, and smartphones.
The ICT infrastructure can also be located within the modern data centers of A1 Hrvatska. Mario Marijan Anić, Head of IT infrastructure in this company, explains that server resources within the A1 data center can be reserved in the same way and flexibly adapted to current needs.
A1 Cloud IT service allows users to avoid high capital investment costs in basic infrastructure, server systems, and licenses. The service enables the virtual use of infrastructure as a service (Infrastructure as a Service - IaaS), which meets all the needs of a production, test, and development environment.
Anić takes us further through the cloudification process.
What Is Cloudification?

Cloudification means the process of conversion of traditional IT infrastructure and applications to the cloud. It refers to the transfer of data, applications, and services from on-premise to cloud-based infrastructure, enabling organizations to leverage cloud services to improve operational efficiency, scalability, and agility.
Cloudification is not a one-size-fits-all solution. According to Anić, each organization should coordinate the optimal cloud model for its unique needs. Cloud models include public, private, and hybrid clouds.
Public clouds are provided by third-party providers and are available to the public. Private clouds are located within an organization's data center, providing greater control over security and compliance. Hybrid clouds combine public and private cloud models, allowing organizations to take advantage of both.
Why Is Cloudification Important and Necessary?

Cloudification is essential for organizations in terms of  competitiveness in the modern  digital environment and offers numerous benefits:
Scalability of infrastructure and services as needed, without significant costs
Agility to quickly respond to market changes and customer demands
It contributes to a significant cost reduction in infrastructure and maintenance, allowing organizations to invest in other business areas (reducing costs regarding traditional IT infrastructure)
Cloud service providers are continuously investing in new technologies and services
They also invest in security and compliance, providing organizations with enhanced security for their data and applications
However, even cloudification is not without its challenges.
As Anić points out, storing data in the cloud requires appropriate security measures, such as encryption and access control. Organizations have to comply with relevant regulations and standards (GDPR, PCI-DSS). Migration, as moving data from local infrastructure, is often a complex and time-consuming process. Organizations can become dependent on one cloud provider - a "Vendor Lock-In situation'' in which the cost of switching to another provider might be high.  And integrating cloud-based services with existing on-premise infrastructure can be challenging.
Cloudification Within A1 Hrvatska
A1 Hrvatska, as a leading provider of telecommunications services in Croatia, accepts cloudification as a way of transforming its business and providing more innovative services to users.
We use cloud technology in our internal processes' improvements and better customer offerings. We have adopted a multi-cloud strategy, using a combination of public and private cloud solutions to meet our needs. We have partnered with leading cloud service providers, such as Microsoft, to provide clients with a wide range of cloud-based services and solutions - says Anić.
One of the key areas in which A1 Hrvatska uses cloud is the development and implementation of its own digital services. They use cloud-based platforms to develop and launch new services faster and more efficiently, such as A1 Xplore TV services for OTT distribution of video services.
"Cloud technology enables us to shorten development time and launch new services faster, at the same time giving us a competitive advantage in the market. Another area where we use cloudification is our network infrastructure. We are moving our network functions to a cloud-based virtualized environment, which allows us to improve the efficiency and flexibility of network operations. By switching to a virtualized network environment, we reduce costs and improve scalability, while at the same time increasing the performance and reliability of our network services" - says Anić.
What kind of future does the cloud bring?
Anić estimates further development of cloud solutions, predicting possible directions of development, some of which will certainly shape the future of the cloud and cloudification:

Organizations will increasingly use multiple cloud providers to meet their unique needs - Multi-Cloud environments. This approach would be helpful in reducing risk, bringing greater flexibility and cost savings.
With the growing number of devices that need a fast response, further development of edge computing is to be expected. It encompasses processing data closer to the source, such as at the edge of the network, rather than in a central cloud data center. Such an approach improves latency and reduces the amount of data that needs to be transferred to the cloud, making it ideal for autonomous vehicles, IoT devices, and real-time analytics.
Hybrid Clouds, a combination of private and public infrastructure, appear as a solution to the challenge that large companies, state institutions, banks, Internet service providers, etc. face, in order to comply with relevant regulations and security standards and maintain efficiency through their services. This allows them to take advantage of the scalability and cost-effectiveness of public cloud solutions while maintaining greater control over their sensitive data and applications.
Increasing growth of Serverless Computing is also expected. Serverless computing allows developers to write and run code without having to manage servers or infrastructure.
As artificial intelligence technology advances, cloud service providers will include it in their offerings, allowing businesses to take advantage of advanced analytics, and natural language processing, without having to build their own systems.
Cloud service providers will also offer quantum computing services, allowing companies to take advantage of the incredible processing power and speed of quantum computers without having to build their own systems.
A1 Start program - your first step towards the "cloud"
The future of the cloud will include further innovations and integration of cloud solutions into different industries and applications. It is also important that service providers keep up with these innovations, in that way improving their offerings.
On all of this work the team at A1, and as part of their A1 Start paid professional development program, they are looking for 15 young talents in Data&AI, IT Systems & Software, IP Technologies, Cyber Security and Digital Marketing teams, enabling participants to accelerate career development through state-of-the-art learning platforms, works on real projects and with an experienced, dedicated mentor.

Sounds interesting to you? In addition to the fact that the program is paid, you will also have all the benefits of A1 Hrvatska employees and access to the most modern digital technologies. Applications are opening this Thursday, the 4th of May. We are posting the link soon.
Good luck!!
Join the newsletter to receive the latest updates in your inbox.