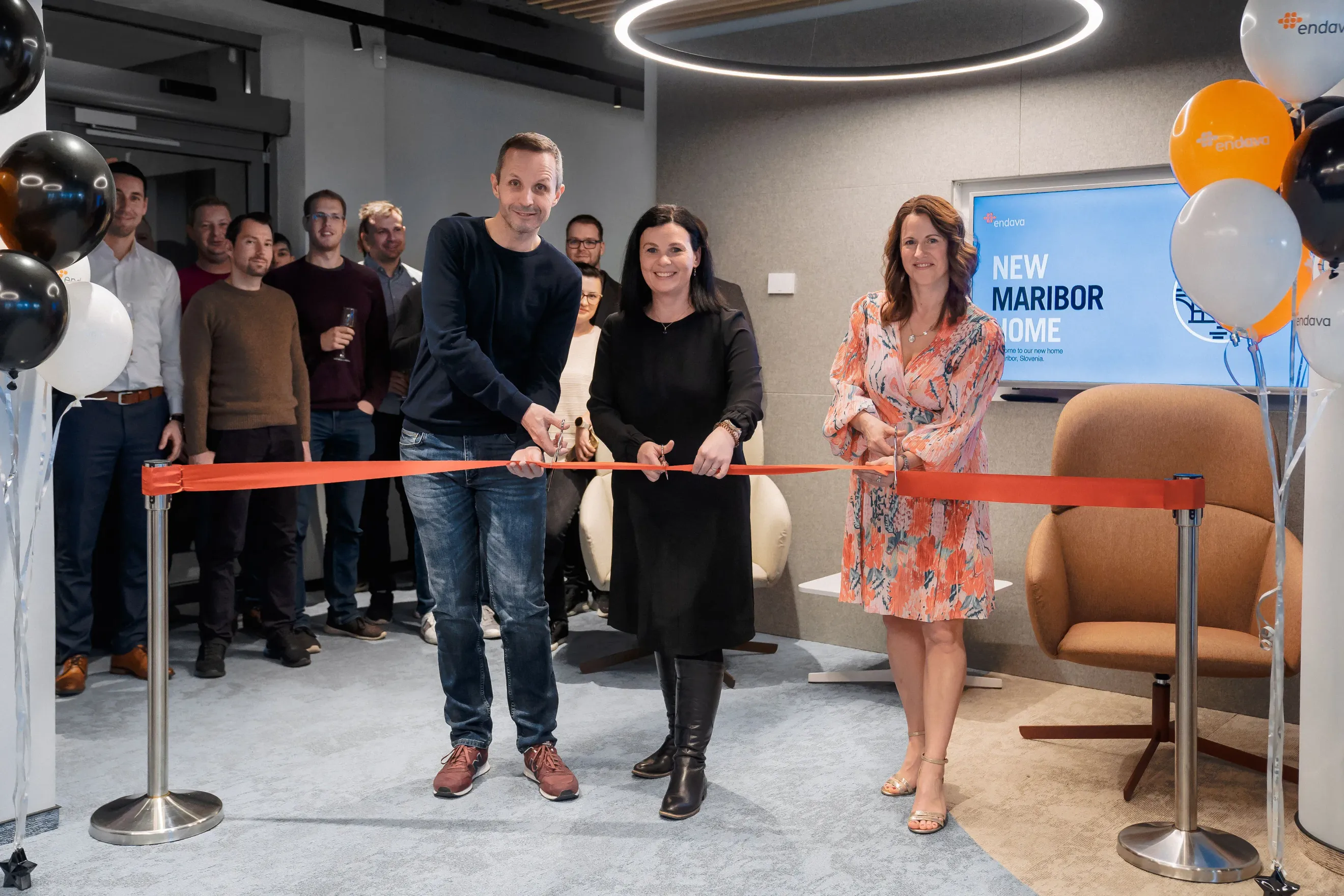 Building new workplace experience in the hybrid work era
Building new workplace experience in the hybrid wo
Although there are great potential and opportunities in the software development services area, IT companies today need to be more creative than ever to reimagine new ways of working that can better address the needs of their employees.
At first, people want to have much more flexibility over where they choose to do their work. While the transition towards the hybrid workplace has become standard, many people prefer to work in an office environment. It requires a whole new paradigm in how offices look and the functionalities that offer the best working experience for each employee.
Following new circumstances, Endava recently relocated to new offices in Slovenia, Ljubljana, and Maribor. As Endavans prefer a hybrid and flexible workplace instead of a remote-only or office-only presence, the decision to move to new offices was a strategic one. How they accomplish this new approach and working concept, they explained for the Joberty.
Maja Brajković, Delivery Unit Manager at Endava Slovenia shared with us more details about companies' reorganization and how it reflects on employees' satisfaction and clients.
Endava already had offices in Ljubljana and Maribor, and now you relocated. What does that mean? It's not just about new premises, but some kind of reorganization.
While we used to have offices in both cities, we have now relocated to new offices that better suit our business needs and offer a modern, efficient work environment for our employees. These new offices offer improved facilities, technology, and infrastructure. The relocation represents a reorganization of our workspace, as we have implemented new concepts such as "Activity-Based Working", "Hybrid Ways of Working," and "Neighborhoods".
With activity-based working, employees have the flexibility to choose where and how they work, whether it's a quiet space for focused tasks or a collaborative area for brainstorming (you can watch a short animation on the "activity-based working" model here). Hybrid ways of working also give them the option to work from home, the office, or a combination of the two. The new concept of "neighborhoods" provides dedicated areas tailored to specific team needs, and they are adaptable depending on when and how often team members come into the office. These areas can be reserved for a specific period, such as the duration of a project. Employees do not make these decisions alone but in agreement with their teams and clients, depending on the project they are working on. The main goal of setting up workspaces in neighborhoods is to ensure that the right people are always sitting together when required, and colleagues can easily find the coworker they need at any time.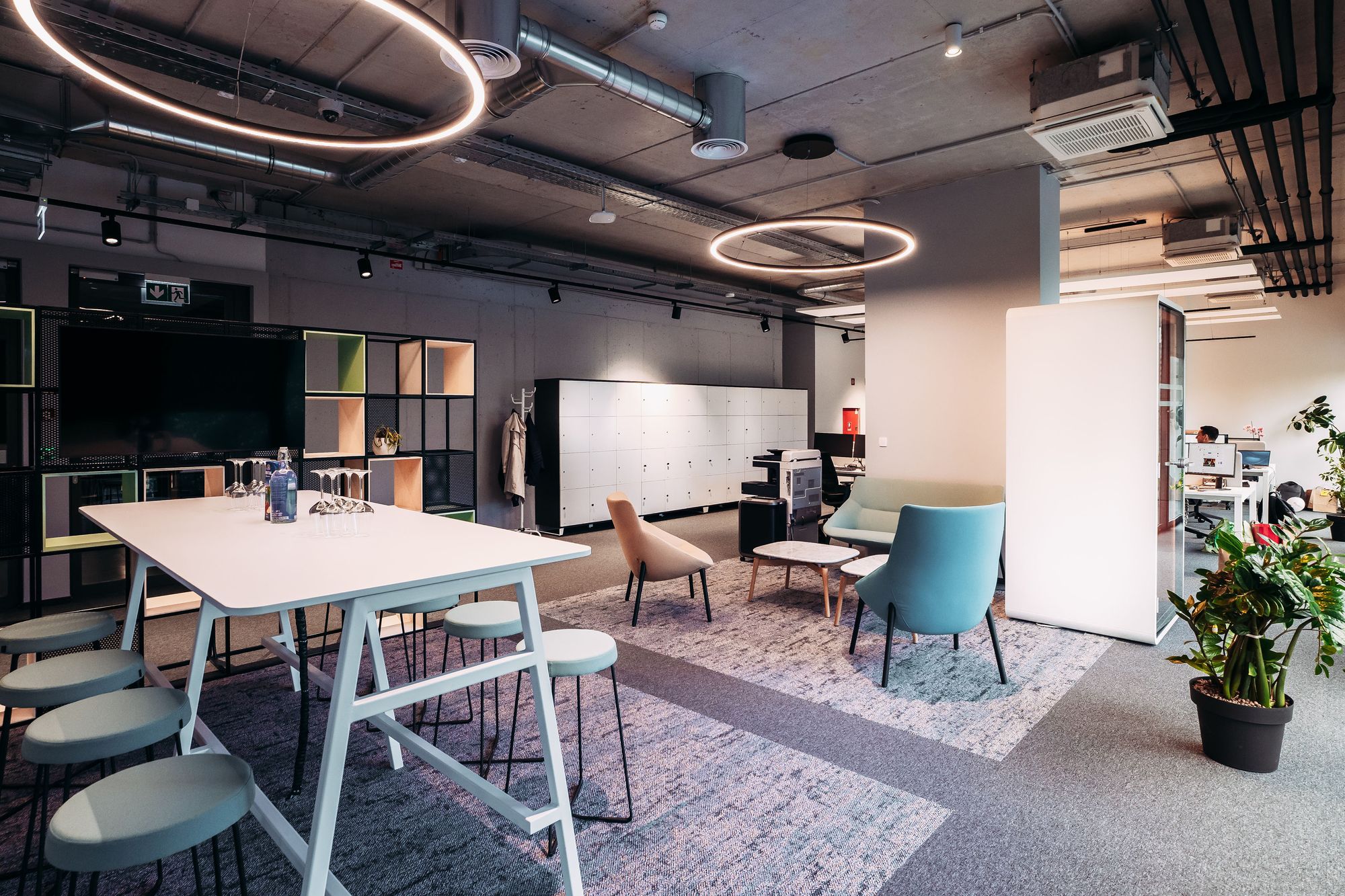 What benefits do employees get from the new office spaces?
The activity-based working concept and the hybrid ways of working that we have implemented allow for a flexible and dynamic work environment that is tailored to their individual needs. Our employees will have access to various workspaces and areas that cater to different activities and tasks, such as collaborative spaces, quiet areas, and relaxation zones. Our neighborhood concept will also provide them with a sense of community and collaboration, helping to create a positive and supportive workplace culture. Additionally, the offices are equipped with the latest technology and amenities to support their work and provide them with a comfortable and productive environment. All of these benefits are aimed at enhancing their overall work experience and helping them to achieve their best work.
Your decision to move to a new office was a strategic one.  How come you decided to relocate in this economically challenging time?
-We believe it is important to continuously invest in our employees and provide them with a modern and innovative work environment that supports their productivity and well-being. Our focus is always on providing the best possible services to our clients and having a physical space that reflects this commitment is a key aspect of our strategy. The current economic climate may present some challenges, but we are confident that our well-planned move will allow us to continue to grow and thrive as a company. We believe that the new office spaces will be another element that will help us achieve our goals.
How has the COVID-19 pandemic influenced the company's decision to move to new offices and what role did hybrid work play in this process?
The COVID-19 pandemic has had a profound impact on the way we work and has accelerated the adoption of hybrid work models, as it aligns with our goal to provide a more agile and efficient workspace that can adapt to the ever-changing needs of our employees and customers.
Even before the outbreak of the pandemic, it had become apparent that remote work could increase productivity due to fewer distractions at home. The main idea behind the Hybrid Ways of Working concept is to find the ideal balance between working in the office and working from home while aiming to respond to the different goals of the company: improving efficiency; a work-life balance, employee health, attracting and retaining talent; improving carbon footprint; optimizing costs.
In our hybrid approach the teams will determine how many days their members can work from home, however, there will still be instances where we will encourage in-person interaction. For example, for a team meeting, smooth and fast onboarding, different gatherings, brainstorming sessions, training, workshops, agile ceremonies, or client visits.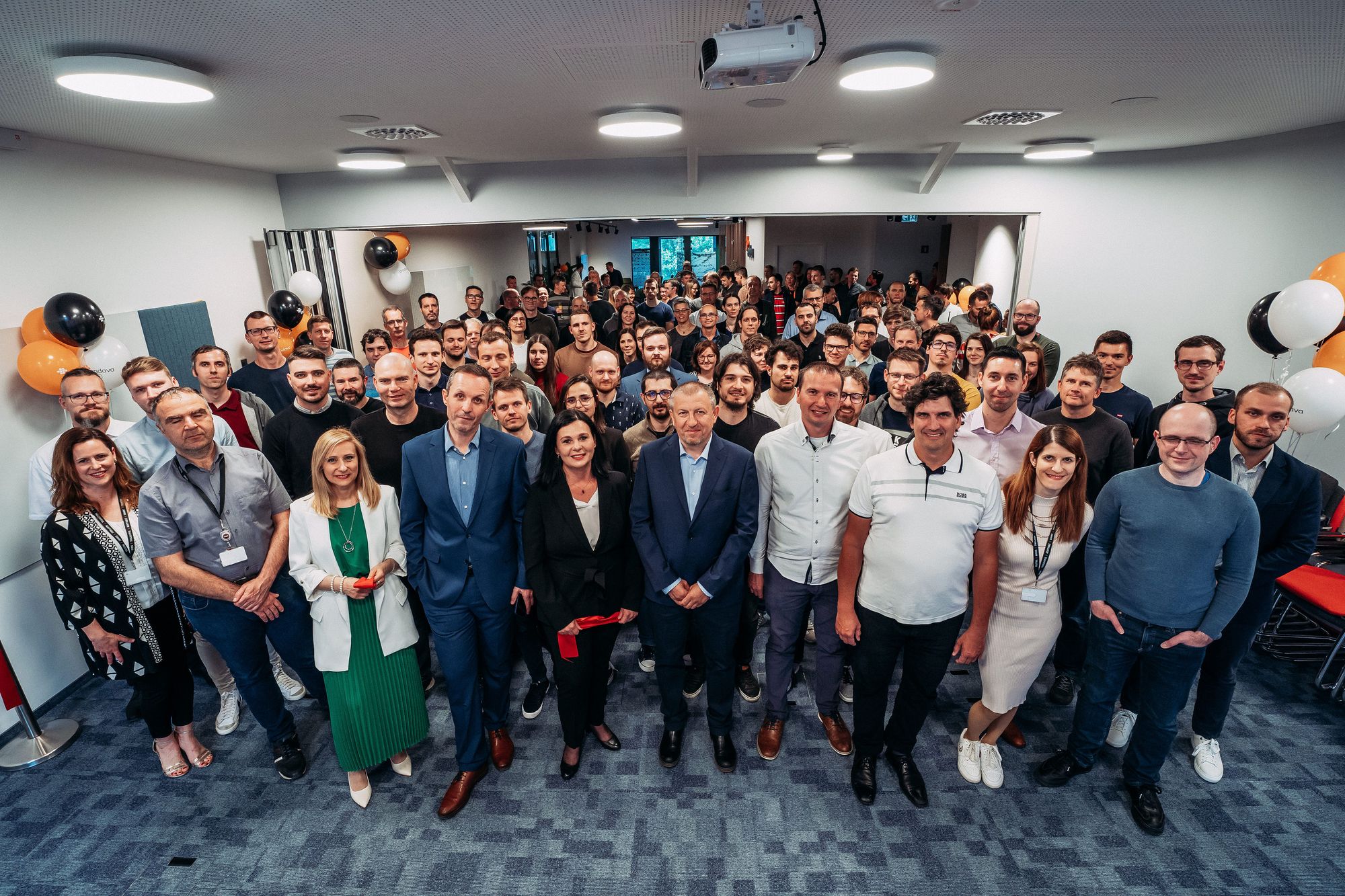 How this new concept reflects on your clients? And how your new offices will contribute to the local communities?
Our new offices reflect our commitment to providing high-quality services to our clients. The latest technology and modern design of the offices will allow us to work more efficiently, and collaboratively with them. We recognize that face-to-face project meetings are crucial for some of our clients, and our new spaces provide the perfect setting for such interactions.
We also look at how our presence in the local market can positively impact local communities, universities, and other organizations, and we believe that by operating from these new offices, we can not only provide better services to our clients but also contribute to the development and growth of the local communities and help nurture future talent in the area. Whether it's through partnerships with universities or through local initiatives, we aim to be responsible and active corporate citizens.
To what extent are new offices aligned with Endava's commitment to sustainability?
The design and operation of the new offices will reflect this approach by incorporating green solutions and energy-efficient technologies. This includes using sustainable materials in the construction and furnishing of the offices, implementing measures to reduce energy and water consumption, and promoting waste reduction and recycling. In this past year, we also announced our environmental ambition of achieving net zero emissions from our organization and value chain. Our objective is that all our offices are in green buildings that have a limited carbon footprint.
How does Endava's presence in Slovenia fit into your global expansion strategy and what is the company's long-term vision for this market?
Endava is currently present in 64 cities from 27 countries, on 5 continents. We are also continuing to expand our geographical reach, and we are proud to be an employer of choice in the countries from Central, and Eastern Europe, and the Adriatic Region, where we have won numerous best employer awards.
Slovenia and the Adriatic region as a whole are vital to Endava. Our Slovenian colleagues play an important part in the global business, and we have discovered a lot of extraordinarily talented and passionate people whom we're proud to work with.
We have strong relationships with local universities and alternative learning institutions around each of our centers to help us recruit and develop exciting careers for current and future Endavans while encouraging IT talent across the country.
Endava's new offices in Slovenia are located at Situla Tower, Vilharjeva cesta 46 in Ljubljana, and Razlagova ulica 4 in Maribor.
To find out more about the company check out their profile at Joberty.
Join the newsletter to receive the latest updates in your inbox.