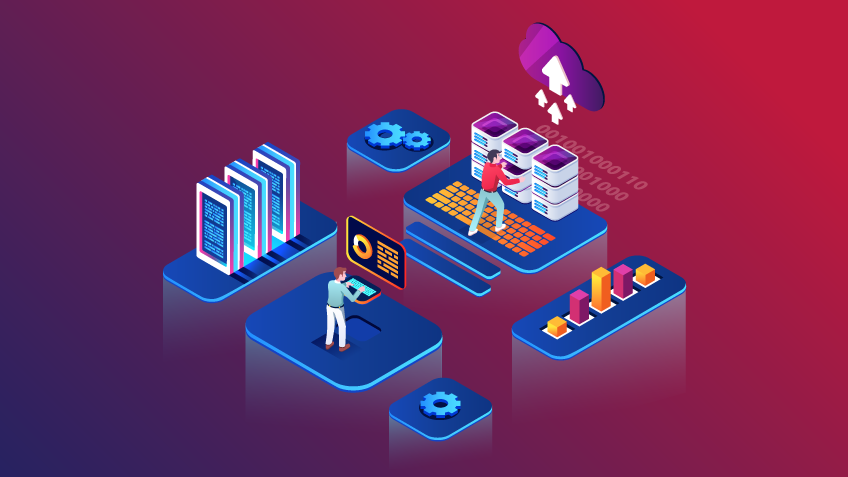 3 Best Software Integration Platforms
3 Best Software Integration Platforms Although not
Although not so obvious at first glance, integrations are an integral part of almost every software.
Integrated systems open up new opportunities for collecting and manipulating different data, which further leads to the improvement of the functioning of the final software solution.
The functionalities of individual applications and their integration can create entirely new use value of existing software, or even shape entirely new software.
Regardless of the technology, integrations provide the ability to work across industries. The diversity is really great, from telecommunications, healthcare, banking, etc. Integrated systems find their application all around us.
What are some of the best technologies that allow us to easily integrate systems?
Together with colleagues from Devoteam, who are known on the market as leaders in the field of integration, we have prepared for you a text about the best platforms for software integration.
The Devoteam team in Serbia has extensive experience in the field of Enterprise integration, which secured them the title of Salesforce Center of Excellence, where the teams have enviable experience in working with Salesforce and MuleSoft platforms.
What are the main features that an integration platform should have?
1. Compatibility
The integration platform must be able to connect to various applications and provide a high level of compatibility with them.
The integration platform must have a high level of compatibility with different systems and successfully "unlock" and smoothly connect with external systems regardless of communication protocols, or the technology in which the systems themselves are implemented; to ensure smooth flow of data between systems. Ideally, an integration platform should have built-in integrations and ready-to-use APIs to make it easier to build a connected system. Pre-developed and established "building blocks" help to connect as easily as possible, and on the other hand, have a positive effect on the time required for the successful implementation of the integration, which ultimately has a stimulating effect on the time to market.
2. Adaptability with on-premise and cloud solutions
This is a must-have for all modern solutions, which are mostly deployed in the cloud or hybrid solutions.
In addition to the business requirement for a solution to be found in the cloud or on-premise, there are factors that can unexpectedly influence such a decision, and that is why it is important that the integration platform provides the possibility and diversity when it comes to making a decision whether the solution should be in the cloud or on-premise.
If we take the example of the pandemic, which forever changed the digital ecosystem of almost all industries, most companies had to make drastic changes to their existing infrastructure in order to maintain business in the "new reality". With the restrictions imposed by the lockdown, organizations have had to move to cloud infrastructure to continue "remote work". But a complete transition to a cloud structure is not possible for every organization. Companies that operate in conventional sectors such as government institutions or in sectors with rigorous security standards prefer their digital infrastructure to be present on-premise. Therefore, although there is constant pressure in various industries to move to the cloud, some organizations still choose to work under hybrid solutions that combine on-premise and cloud-based infrastructure.
The integration of such on-premise, cloud or hybrid solutions is inevitable and therefore the adaptability of the integration platform itself is a key success parameter.
3. Developer tools
To get the most out of integration platforms, it is essential that tools are provided to assist API development. It is desirable that the developer tool itself supports the possibility of programming in Java or another programming language.
4. Dashboard for process monitoring
A good integration platform should have a centralized dashboard that gives users insight into all applications and processes. Monitoring through centralized dashboards provides benefits to both the development team and interested business stakeholders. Through the dashboard, interested parties should have insight into the very flow of the process during integration testing, which significantly facilitates debugging. Also, it should provide insight into the memory consumption of a process or API, so that they can react and adjust the sizing and optimize the execution of the process in the best way.
5. Active community
Although seemingly irrelevant, a well-developed community is of great importance for integration platforms.
The community of experts, users and developers who use the platform every day can be a great support during the implementation and optimization of the integration platform. They are the ones who often help other users get the most out of the integration platform they use.
An example of a well-developed community is the Mule Community, which has developed several different approaches to provide its users with maximum support when using MuleSoft.
In addition to the provided documentation, blog posts, webinars and meetups, MuleSoft has developed a mentorship and ambassador program. This program ensures the active participation of MuleSoft experts in building the MuleSoft community through their involvement in discussions on forums, and groups on Facebook and LinkedIn, as well as participation in events organized by MuleSoft.
In addition to the more traditional approaches we've outlined, MuleSoft also has official communities on networks such as Reddit.
Software integration platforms
MuleSoft
MuleSoft is one of the most famous and leading integration platforms in the world, which became part of Salesforce in 2018.
Working on Mulesoft projects alone provides knowledge that is usable in the global market, which is very important for the professional development of each individual.
MuleSoft provides full system integration and makes it easy for businesses to efficiently connect data from different systems.
It has a large collection of connectivity and integration connectors, so it can be said that it is capable of connecting with all of them – Salesforce, ServiceNow, Google and Azure.
One of the items that sets MuleSoft apart from other integration platforms is API led connectivity - the development of APIs that are intended for certain roles they play in connecting two applications, rather than the development of a separate API for each application.
API led connectivity approach
This is the recommended Mulesoft architectural approach which is a methodical way of connecting data to applications through reusable and purposeful APIs. These APIs are developed to play a specific role in unlocking backend system data (in the system layer), orchestrating logic and implementing business rules (in the process layer) or providing an experience to the end user (through the experience layer).
APIs implemented following this approach are created for reuse, which dramatically improves developer productivity and project quality. With that impact, the IT focus shifts to innovation and this creates the opportunity to improve speed, security and reduce project costs. It also unlocks business value, and additional revenue and ensures a faster time-to-market process.
This approach ensures that we reuse an API once developed, adapting it to different needs within the business, which greatly increases the productivity of teams.
Unlike other platforms, which are mostly based on XML, MuleSoft is a graphical tool - minimal time is required for application development.
The Anypoint platform is currently the only solution on the market that combines all the main artifacts of integration in one place - the possibility of design and API management and monitoring in one place. The Anypoint platform allows you to close the life cycle of an API in one place, from design, implementation, to delivery and monitoring.
In order to make the most of what the MuleSoft platform provides, the basic knowledge a user should have is familiarity with the concepts of integrations, API management and JSON, XML SOAP/REST standards.
TIBCO Connected Intelligence
TIBCO is one of the largest providers of middleware services, with products for integration, data aggregation and segmentation analysis.
It has a high level of compatibility with various applications, services and data, including integrations and API management.
It can integrate with both on-premise and cloud services, as well as with environments such as Docker and Kubernetes.
Oracle Fusion Middleware
Oracle offers various solutions for infrastructure management, data hosting and resource planning.
Oracle Fusion Middleware provides the exchange of data in various formats and sources, between applications.
It is compatible with cloud solutions, IoT and with on-premise solutions.
For application development, developers can use Java technologies. Familiarity with SOAP communication protocol as well as XML, XQuery is also required.
Why are integrations more important to us now than ever?
The IT industry is so-called. fast-paced environment - where the speed of product adaptation to the market has become one of the most important items for the success of any business.
The needs of the market are changing rapidly, therefore the changes in the software must also take place rapidly.
Therefore, software architecture and API strategy have become one of the more important items that a business should think about when adapting its product to the market.
API-led connectivity is a trend that more and more businesses are turning to because it provides a high degree of agility and increases the productivity of teams - thereby saving resources.
If you want your skills to follow market trends and you are interested in what it would be like to work in a company that is a Salesforce Center of Excellence, look at open positions and start your career in software integration.
Autor: Jovana Zlatić
MuleSoft Unit Manager
Devoteam Serbia
Join the newsletter to receive the latest updates in your inbox.