Knowledge sharing within the company: How to organize it and why is it important?
Knowledge sharing within the company How to organ
How many companies have you come across where teams share knowledge from different projects they are working on?
While knowledge sharing in the workplace can go a long way towards building more engaged and productive teams, this is still the exception rather than the norm.
As the working environments in IT companies are organized much more flexibly, the space for the development of a culture with much more open discussion and exchange of knowledge opens up. Such companies create an environment that encourages cooperation, but also the improvement of the organization itself.
Employees who learn from the experiences of others and help others grow with the knowledge they can share are most likely to benefit.
Why is it important to share knowledge?
Sharing information within a team or organization:
● increases employee satisfaction and trust
● leads to better, more efficient teamwork
● increases productivity as knowledge from different fields allows you to think more creatively about solving problems
● promotes new ideas and innovations
● and improves internal communication
How to create a culture of knowledge sharing?
Building a culture where individuals and teams are willing to invest extra time in sharing their knowledge and experience and encourage others to do the same, is as challenging as introducing any innovation and stepping outside the box. In order to get closer to how some of the companies in our market solved this, in the text we continue to talk with the Niners.
Levi9, to begin with, launched two expert communities in order to exchange knowledge within the company - Testing and JavaScript, among teams that worked on different projects. Several colleagues led activities aimed at professionals and enthusiasts from this field, and below we will hear how they organized this communication and how they further value and spread it.
Knowledge sharing is an integral part of the culture at Levi9, and many communities there have been functioning informally for a long time, but in 2021 expert communities were formalized through the launch of the Testing and JavaScript Community.
Our interlocutors are Stefan Milankov, .NET Software Developer and Miloš Cvetković, JavaScript Tech Lead, both leaders of the JavaScript community, as well as Dušanka Lečić, Department Manager & Test Lead and Nenad Resimić, Test Developer, who leads the Testing community.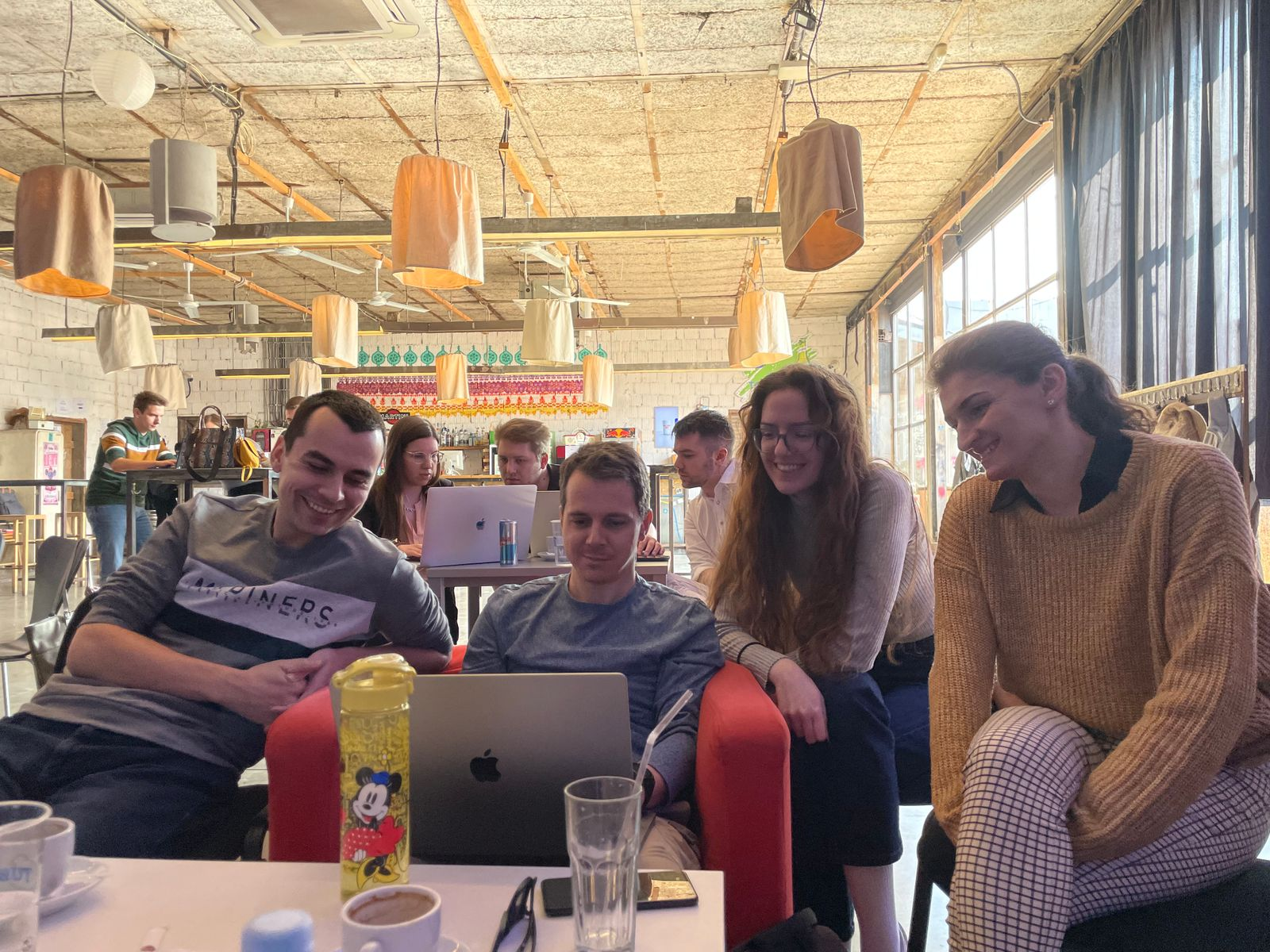 Both communities were created "organically", from the inside, by the team members themselves. Finally, different experience was accumulated through projects and the need for their collection and sharing emerged.
How did you come up with the idea to organize the exchange of knowledge between teams that have not cooperated so far?
Stefan:
We had a desire to connect people with similar interests. Sharing knowledge allows us to hear new ideas and approaches to solving problems.
Dušanka:
It is always nice when technical topics are popularized within our company and knowledge is spread and transferred. As the leaders of the testing community, first of all, Nenad Resimić and I had not collaborated before, but our appointment as leaders made the challenge greater. We both have a good experience that we have very successfully mixed together and created a really nice story for testing in the last couple of months.
What were the biggest challenges you faced as leaders of expert communities?
Nenad:
The biggest challenge was to find topics that will be up to date for colleagues, and yet not overlap it with the topics covered at meetups, various lectures, internal and external. As the basic idea was to get all the participants to participate actively, it was challenging from the very beginning to "hit" them with the topic and idea, as well as to make them understand that they are part of the lecture and not just listeners.
Miloš:
The organization of the event was certainly a challenge. We also had the help of the company Levi9, which was great, and it was up to us to be good hosts.
How did you organize the exchange of knowledge?
Stefan:
"First, we created a group on the MS Teams platform and divided the activities into 4 channels. The first channel is intended for sharing general information about the work and activities of the community. The second relates to the announcement of official events in the community. Next, we have a space where members can share texts, news, events, videos, courses and interesting things from the JavaScript world. At the end there is a Q&A section which is intended for interaction between community members, asking questions, project support and helping friends."
"We also organized a two-day Angular workshop in Belgrade, Serbia as well as a meet-up on the topic "NestJS in Action", which was held at the Levi9 company's premises in Novi Sad. For those who were unable to attend the event live, online streaming was provided."
Nenad:
"Due to covid19 and working from home, all our sessions were online, so it is a little more difficult to follow up on questions, raise hands-on teams and watch people's reactions, which was helped by wonderful colleagues from the employer branding team, as well as fellow community leads who participated and helped us with Skype messages and the like."
How did the program participants react?
Dušanka:
We were pleasantly surprised by the activity of Niners at each meetup and the questions asked, which showed their great interest in sharing knowledge for the specific topic we were presenting.
Miloš:
Great, colleagues started to apply the acquired knowledge and some new ideas for the next lectures were born.
What is the biggest contribution of this program - personally and for the company?
Stefan:
"The biggest contribution is the organization of the two-day Angular workshop in Belgrade, which we realized with the great support of the employer branding team. I am proud that we were able to organize this event live, in an uncertain time during the pandemic. The workshop was excellent, and I would like to thank all the members for their participation and companionship during these 2 days."
"The role of Community Lead brought me a new and very nice experience. It allowed me to be part of the great team that formed the JavaScript community, participate in the organization of its events and together with the members gather ideas and make a plan for community activities. Likewise, performing this role further improved my organizational, communication and leadership skills."
Dušanka:
"The main benefit is exactly what we popularize, which is #shareknowledge, and I am really extremely glad that we stood out in the sea of ​​IT companies with something completely unique. A personal benefit is a new experience and my cooperation with Nenad from the Belgrade office."
Nenad:
"The biggest contribution is the bringing together of people from different departments, getting to know Niners with whom I have not worked before. When you consider that Levi9 has around 700 IT professionals, it's not so strange. Find out directly from colleagues what interesting projects we have in the company, what technologies are used, what are the expertise of our colleagues, know who to turn to if we need something. It is beneficial for the company that the employees will learn something new that they can use in their projects, and offer clients innovations, and improvements, which will make the client more satisfied, and which results in the satisfaction of all of us."
Miloš:
"Personally, the further development of soft skills, in addition to the technical ones that are somehow implied. The position itself brings challenges in organization, topic selection and community ecosystem development. While for the company it is not to possess "dead" knowledge but to "revive" it through the community by sharing it."
What advice would you give to fellows DEV community members?
Stefan:
Most engineers rely on formulas when solving problems.
"Meetings and detailed problem solving are often seen as a waste of time. Likewise, uncertainty, alternatives and ambiguity are not favorite topics. I would advise them to spend more time thinking about what needs to be done, rather than just doing the given task. Finally, don't forget to share a new solution, pattern, or problem-solving approach with the rest of the community. In this way, we contribute to the accumulation of knowledge and help new generations in solving similar challenges."
Dušanka:
"Feel free to approach your colleagues and engage in a conversation with them about what they are doing on the project and beyond it, what is interesting to them and whether they would like to share something with others. Don't miss the opportunity to find an interesting story that needs to see the light of day."
Keep sharing - what's the best tip and trick you've learned?
Nenad:
"The best thing I've heard within the community is the Security lecture. It was held by our internal pen test team and they perfectly explained to us how we can go in that direction, what are the steps, and what will be the challenges along the way. Full understanding of the topic of security testing."
Stefan:
"Speak less, listen more. By actively listening, we will learn the thoughts and perspectives of other people. Furthermore, when we help people achieve their goals, they will help us achieve ours."
What are the plans for the future?
Miloš:
The plan is to continue with good lectures, new ideas and technologies so there will be no shortage of inspiration. As well as involving as many people as possible in leadership and drawing new ideas from that base.
Dušanka:
New leaders of the Testing community have been elected, who will receive all possible support from me and Nenad so that they too can start successfully and bring some new ideas and energy into the community.
As you saw that knowledge sharing is important from Levi9's example, feel free to do the same on the Joberty community.
If you are interested in more about Levi9's business culture, take a look at their profile on Joberty, and if you want to be part of this story, take a look at the currently open positions they offer.
Join the newsletter to receive the latest updates in your inbox.